The error in Winbox "Could not fetch index" is most commonly displayed on Windows 10, which prevents access to Mikrotik through Winbox app.
Winbox could not fetch index due to the incompatibility of this app with Windows 10. If you download the Winbox app from an routerboard web interface, you will not be able to use it on an x86 machine
However, if you download directly from RouterOS web interface then this error will be avoided. The Winbox app version downloaded from that source will also work on Windows 10.
To avoid the Winbox error "Could not fetch index" , do the following:
First try to access the Mikrotik RouterOS through another computer.
Open the browser in an Windows 7 or an earlier Windows version.
Click the Winbox icon (the first icon on the left). After clicking, the Winbox app will be downloaded.
Copy Winbox.exe to use on your computer with Windows 10 OS. Now you're okay, the error will be avoided.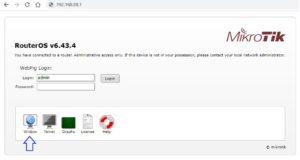 If you do not have another computer then try it out of your computer by following these steps.
Try downloading Winbox from Mikrotik Web Interface in your computer. To download Winbox via Web Interface you need to make sure that www is enabled on your router.
How to enable www – Mikrotik Web Interface?
Login on your Mikrotik OS through any telnet app such as Putty.
Enable web interface by typing: ip service enable www , then hit Enter.
Open browser. Enter the IP address of the mikrotik eg 192.168.88.1.
Download then open Winbox.
Now Winbox app will open without being hindered by error: Error "Could not fetch index".
If you can not connect with Telnet to enable the WWW, then search for an older version of Winbox.
In the video below, we have explained all the steps you need to follow to avoid the Winbox error. You can see a visual demonstration of how it is displayed and also how to avoid the problem.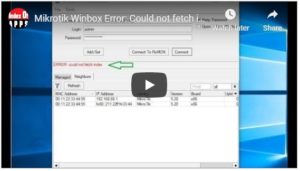 Where to download Winbox for Windows.
From Mikrotik official website.
This is limited to the latest version only.
The official link for Winbox  x64: https://mt.lv/winbox64.
The official link for Winbox  x86: https://mt.lv/winbox.
Winbox older versions.
Winbox 2.2.7
Winbox 2.2.15
Winbox 2.2.18
Winbox 3.0-rc2
Winbox 3.11
Here is the link ↗ for above versions.
You can download all Winbox versions from third party sources.
http://admin.roset.cz/Mikrotik/winbox/