Windows 7 update error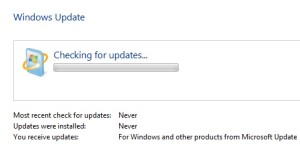 A windows 7 update error like: 800b0100 or 80072ee2 seems to be a problem but a solution to it exists because there is a code that appears behind him. The solution is more difficult when Windows update is stuck for a long time without giving us an information of what is happening.
This Windows 7 update error usually occurs when the computer has a pirate version of Windows. But this problem also occurs for other reasons. It happens also when in the system original files are replaced with unrecognized files.
However, let's try a solution.
Disconnect network.
Disable automatic or manual Windows updates.
Reboot your PC
Click on Start Menu, enter cmd, right click Run as Administrator.
In the cmd window type sfc /scannow then press Enter. Wait until the process is finished.
Clear the cache in your router, server,modem or in any device that you have, which serves for you to connect to the Internet. If you have no idea how to do this, just restart it.
Go to Windows update change setting to Automatic.
Reboot your computer.
We hope that this will be the solution for you. However, this post is based on a long time experience with Windows 7.