You must be an admin of this Audience Network App !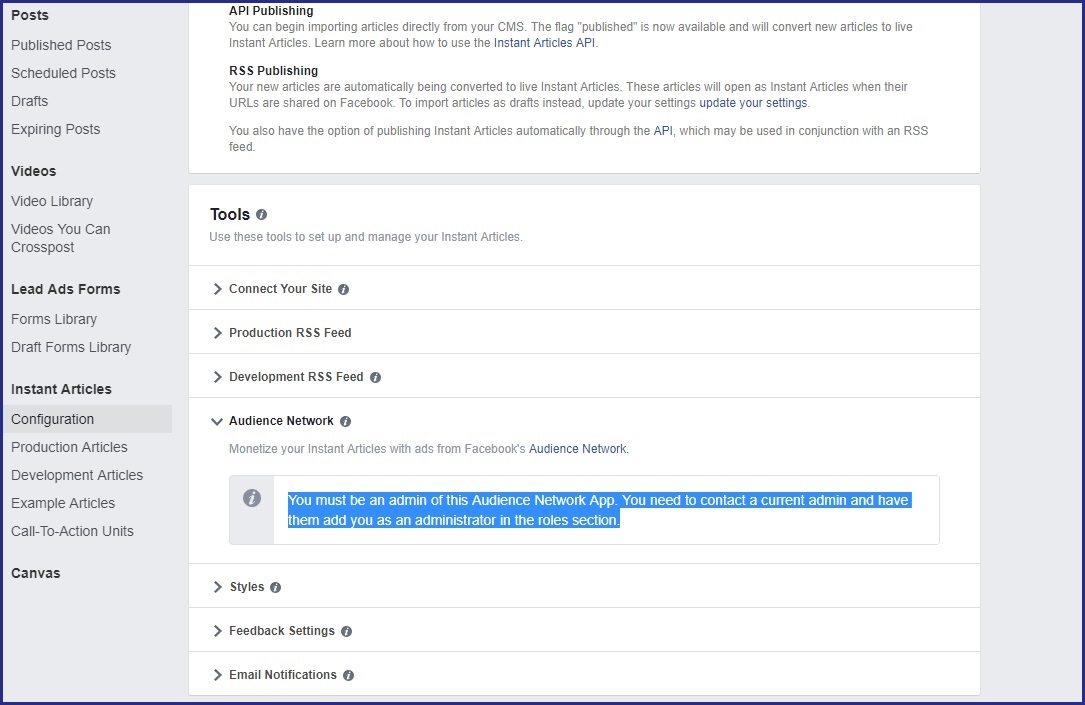 You must be an admin of this Audience Network App. You need to contact a current admin and have them add you as an administrator in the roles section. What does this mean?
In most cases, this occurs when the Instant Articles app is deleted. But it also happens for other reasons. If someone before created the Instant Articles and Audience Network app for your site, and you've removed it from accessing the app, then you will lose the ability to access Instant Articles app include Audience Network. Even though Instant Articles will work and the ads will appear.
The best way is to prevent this from happening. When you create an FB page use your real account, forget others. Use the same account to sign up for Instant Articles  and Audience Network. Do the same thing when you connect your site with FB Instant Articles, especialy if you are connecting through WordPress Plugin.
How to restore Instant Articles app?
First, use this method:
Find your deleted app then click Restore,
Open your email used for that app and accept restoring the Instant Articles app.
If your app is not there, then we're dealing with another account that has had access before the app is deleted. Contact and ask them to restore app through the same link. If he does not have access to it, then this is called  trouble. You need to contact Facebook support.
Since the first method has failed, then try this:
Select an existing app,
Click Audience Network, Performance,
Click Need Help?
Now click Contact us.  You will be asked to give the name and app id of your deleted app if you remember. I'm not sure if this method will work and if you will get the right answer.
From my experience, Facebook support has many answers, but not a substantial answer to solving the problem, especially when it comes to Instant Articles. It looks like this Facebook Instant Articles app is still in the Beta version although it is not mentioned. Perhaps in the future things will be clarified, but it is not fair that people lose what they have earned by working hard.