Download Adec Failed appears when a device is not started in the right state to accept files. This happens often in Mpman devices during recovery procedure with PAD Product Tool.
First of all, for this model of tablet there are no sufficient tutorials in English, most of the tutorials are in French, however these tutorials are very informative. These forums provide the necessary files required for Mpman firmware recovery, and useful info about Download Adec Failed message.
Download Adec Failed while trying to recover MpMan MPQC 783 tablet, why?
To recover an external device from PC the device must be in the appropriate state to accept files. In this case the Mpman MPQC 783 should be activated in ADFU mode.
How to run Mpman MPQC783 in ADFU mode and recover it  with Pad Product tool ?
First, download the package (Windows tool, firmware and tutorial) from: http://transfert.mpmaneurope.com/uploads/MPQC783_playstore_complet.zip, extract ziped file then install it through setup.exe.
Run Pad Product tool app in your Windows PC then add appropriate files in this tool. (see the tutorial with screenshoots).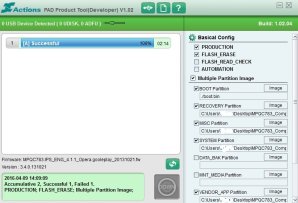 The Mpman MPQC783 has only one button (Power switch button) so press power button to switch on your tablet. When you see the logo press again power button several times. The screen of the tablet may be blank and black but that's not important. The most important is to see your usb device detected in the Pad Product tool app in your Windows PC. When this appear then you can click DOWN.
Also, you can use an Windows app for tablets "Pad Product tool " for some other tablets, in particular for Mpman models.
However, you should take care during the establishment of a firmware in a tablet or smartphone because they may have undesirable effects. Hence it is always best to use with the first official recovery methods.