Haven anti-spy app for Android is released recently by the former CIA employee Edward Snowden. Although, this app for the moment is offered in beta mode and is looking for contributors.
Haven anti-spy app info:
App name: Haven.
Category: Security.
Author: Edward Snowden.
Company: Freedom of the Press Foundation & Guardian Project.
License: Free.
Permisions: SMS, Photo/Media/Files, Camera, Microphone, Device ID and Call information.
Official download link: Google Play.
Download and install Haven anti-spy app.
First of all, if you simply search for the application called "Haven" you will encounter many results. That's because there are many downloads with the same name.
Look at the picture and avoid this.
So, you can find that app easy, simply search for the name "Haven Keep Watch" same as in the picture below.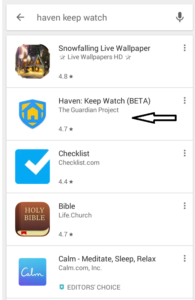 And finally, installation is easy. If you do not deal with the installation of apps, then check out the photos below