Windows store – error 0x8000FFFF
Error 0x8000FFFF usually appears when we try to install an app through Microsoft store in Windows 10. But this also happens in other Windows versions. Sometimes Microsoft store page could not be loaded in some countries.
The error 0x8000FFFF indicates when Microsoft Store page could not be loaded. This error most often appear in Windows 10 store  and only in some countries. However this error  is also known for some other applications.
In Windows, this error usually appear with this code:
" Try that again
Page could not be loaded. Please try again later.
Refresh the page
The error code is 0x8000FFFF, in case you need it.
CV: AxYYXXYYxxYYxx "
The error code 0x8000FFFF is the same in all computers , while CV…  is different.
How to fix error 0x8000FFFF ?
In this case, the easiest solution is to bypass this error by changing regional settings, or more specifically to change the country through Settings or Control Panel.
To change the country in Windows 10:
Click on Start menu.
Click Settings.
Click Time and Language.
On the left side click Region.
Under Country or region select different country.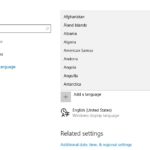 If that doesn't work, click on one of our links to find your favorite app: