How to install Windows 7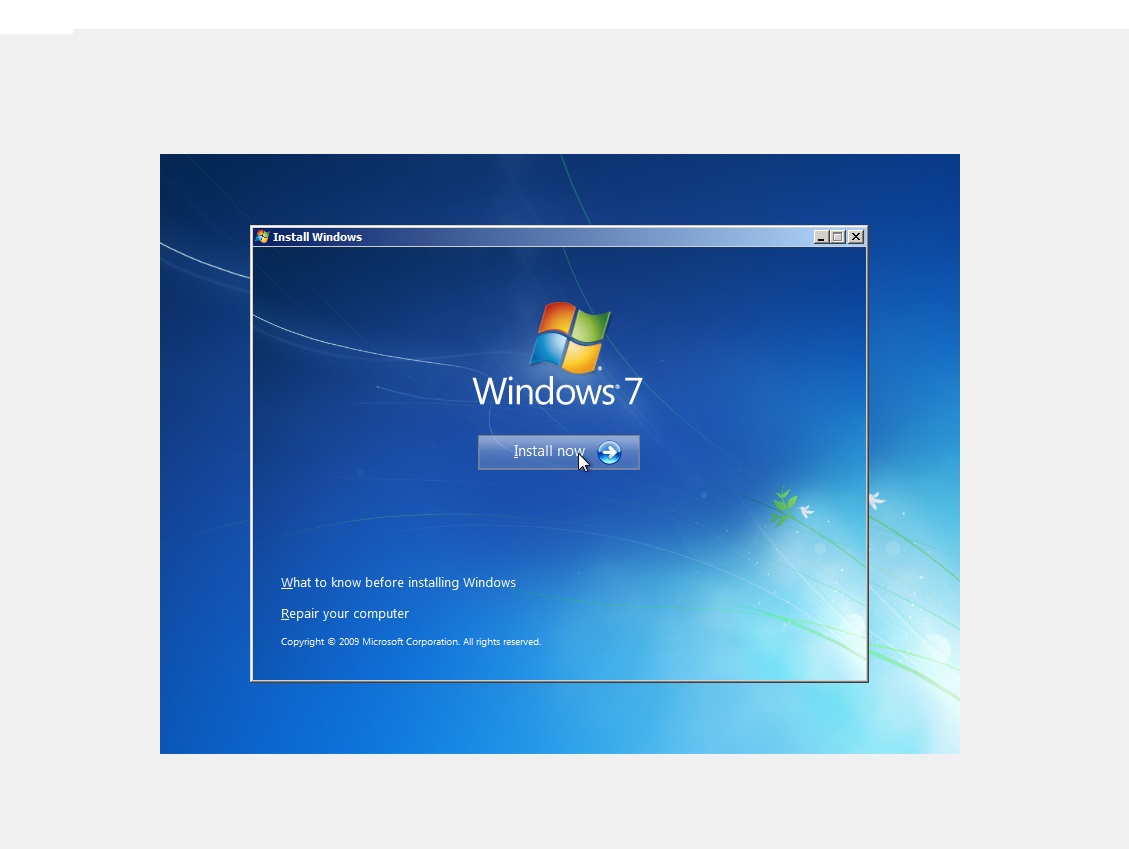 To install a clean copy of Windows 7 you must know first how to:
Configure internal Hard Drive for backup.
Shrink and create new volume for backup.
Backup all important data.
Backup Drivers.
Find and save Windows Product Key.
Configure Bios to boot from CD-DVD drive or Usb.
Installing Windows 7
Running Windows installation.
Configure and format Hard Drive Partitions.
Install and configure Windows 7.
After Installing Windows 7
How to Activate Windows.
Configuring Windows Updates.
Installing Device Drivers.
How to create and configure User Accounts.
1.BACKUP
First you must have a disk to backup your important data in computer, documents, drivers and other data you may have.
If you have an external drive put all your files there, if not, you need a secondary partition in your internal hard drive for backup (Local Disk D:).
If your computer contain only one partition Local Disk (C:) you should shrink your volume depending on the free space in disk and create new Drive (D:)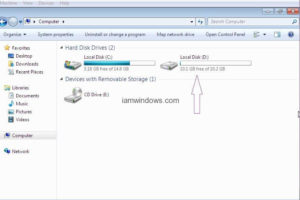 How to shrink volume and create secondary partition in Windows without losing data
Right click in Computer icon in Desktop and click Manage,
Click Disk Management,
Right click in C:,
Click Shrink Volume,
In the "Enter the amount of space to shrink in MB" specify space for new partition depending on the free space in drive C: .If your disk capacity is 100 gb and has about 50% free space you can enter about 10000 to 40000 mb for new volume.
Now click Shrink and wait…, new "Unallocated" space will be created,
Right click in "Unallocated" and click New Simple Volume, click next, next, next, finish.
Now you have secondary partition New Volume (D:). Put  your important files there.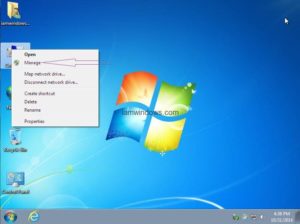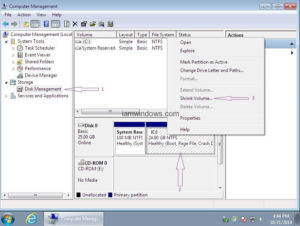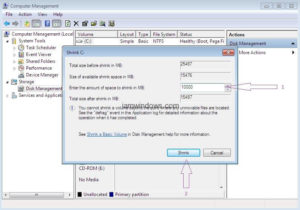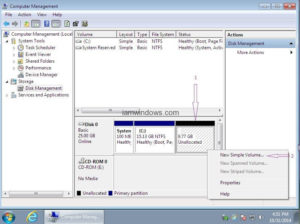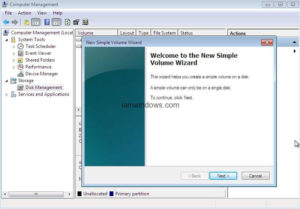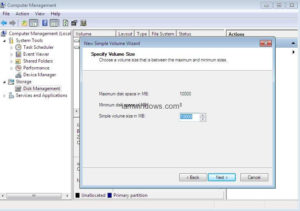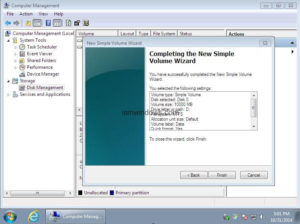 Backup Drivers
Open browser go to www.indexofapps.com, click Downloads, click Windows Applications, click DoubleDriver and download it through mediafire link (close ad).
Extract DoubleDriver zip file and run executable dd.exe
Click Scan, click Select and click All,
Click Backup, click Browse, navigate to New Volume D: and click OK.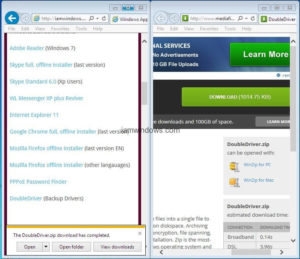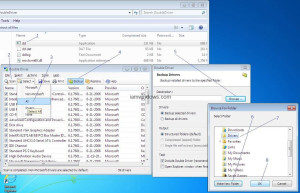 Save your Windows Product key
Check the bottom of your Notebook or back, left, right in your Desktop PC.Locate Product Key (25 characters numbers and letters) in this format: XXXXX XXXXX XXXXX XXXXX XXXXX.
If there is no product key, or is not readable we need Magical Jelly Bean KeyFinder.
Open browser, go to :https://www.magicaljellybean.com/keyfinder/
Download free version, install and run KeyFinder.
Click File, click Save As…navigate to New Volume D: and click Save.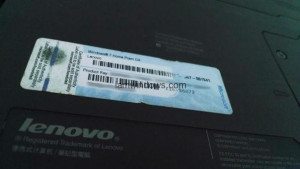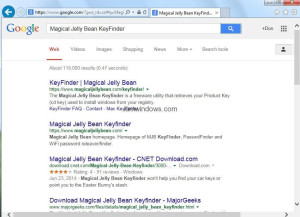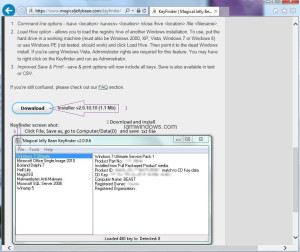 3. INSTALL WINDOWS
Boot from DVD, configure partitions and begin installation.            (Or create Usb boot media)
Insert Windows 7 installation DVD,
Restart computer,
Press any button on the keyboard when you see the message "Press any key to boot from CD..", but remember one thing, during the installation of Windows the computer will restart several times, and you will see the same message to boot from cd/dvd, do not touch keyboard after other restarts, do this only the first time.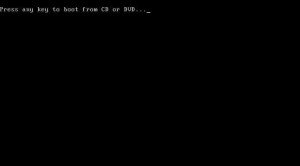 Windows 7 installation steps
Select language, time and currency format, keyboard or input metod and click Next, then click Install now. 
Select your Operating System for which you have a license (Product Key), select X86 or X64 Architecture .
Click Next,
Check I accept the license terms and click Next,
Select Costum (Advanced).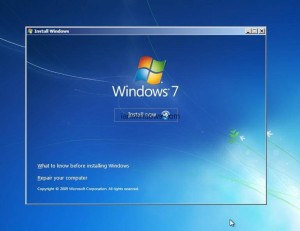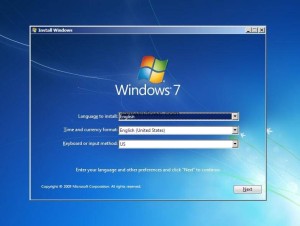 Configure hard drive partitions
Drive with pre configured partitions:
In this case we have 3 pre configured partitions, if your 3rd partition contain your data saved before don't touch it, just click Drive options delete 1st and 2nd partition, now create new partition by clicking New, click Apply then click Ok, setup will create 2 partitions one for adittional system files and one to install windows, click Partition 2 click Format , windows installation will start when you click Next, you have to wait 20-50 minutes for the next steps, depending on the computer's performance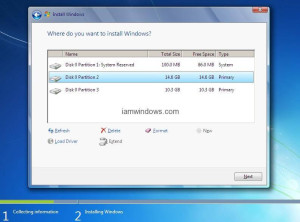 -Drive without partitions created:
If you have a new hard drive without partitions configure them now by clicking Drive options, click New,
If you want to create only one partition leave size as is and click Apply,
For 2 or more partitions click New specify the size of the first partition (at least 12gb),click Apply and click Format.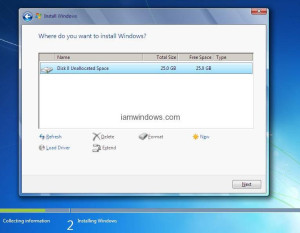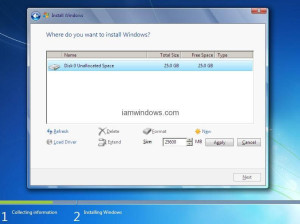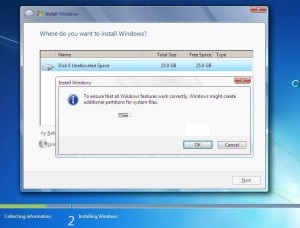 -Create secondary partition by clicking New in Unallocated Space then click Apply.
Now we have 3 partitions:
Disk 0 Partition 1: System Reserved 100 mb (for system files)
Disk 0 Partition 2: To install Windows
Disk 0 Partition 3: To save personal data
To began the installation of Windows click in Disk 0  Partition 2 and click Next.
You have to wait 20-50 minutes for the next steps as explained in the previous example.
After several restarts, at the end of installation enter your personal and regional information. (I suggest: Skip Product key, and Ask me later for Windows Updates )
4. WINDOWS CONFIGURATION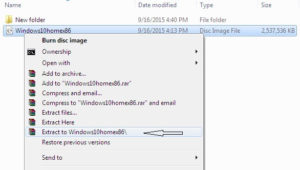 Personalization
Put icons on the desktop and select your favorite theme
Click with the right mouse button on the desktop, select Personalize, select your theme, click Change desktop icons, select your icons, click Ok, exit window.
Activate Windows
Click with the right mouse button Computer icon on the desktop,
Click Properties,
Click the link xx days until automatic activation. Activate Windows now,
Click Activate Windows online now,
Type your product key (25 character numbers and letters),
Click Next,
Wait until you see the message "Activation was successful".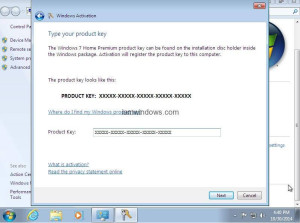 Windows Update
Open Control Panel,
Select View by: Small icons,
Click Windows Update, Click Change settings (Microsoft suggests Automatic Update, while i prefer to install updates manually),
Under Please select an option: click Check for updates but let me choose whether to download and install them, check two boxes and click Okand wait,
When you see the message: Install new Windows Update software click Install now, Windows will install the software and will check for updates,
Select all important updates and optional updates that you need then click Install now, Windows will download and install selected updates and the first time this procedure will take more time. During installation the computer will be restarted . Don't disconnect, unplug or turn off your PC while the update is being installed.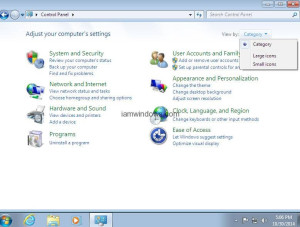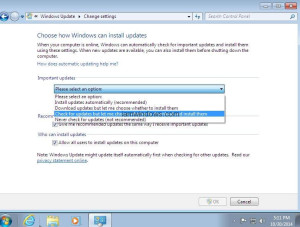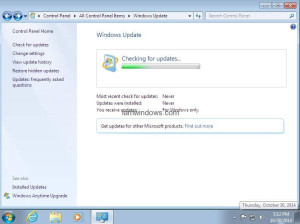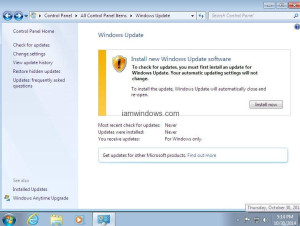 Windows Security
If your computer is used by more than one user…
Install Antivirus software then update it.
Activate Administrator, click Start menu, type cmd, right click cmd.exe and click Run as administrator, in cmd window type: "net user Administrator /active :yes" off course without quotes, pres
Enter and close window.
Open Control Panel, click User accounts, click Manage other account, choose Administrator, click Remove the password and close window.
Click Start menu then Log off,
Log in with Administrator .Remember the default user name that you created during installation, can be "John", or you have written your name, suppose you set "John", because we have to put limits for John.Ok go to Control panel click John click Change the account type click Standard user then click Change account type. Set a password for Administrator account. Now we have an Administrator and a limited account.
If you prefer that Windows starts completely with limited user "John", click Start type netplwiz, uncheck "Users must enter a user name and password to use this computer" click Ok, User name: type "John" as always without quotes, password: type your password if you use a password for "John" if not leave blank and click Ok.
This is the way I prefer, not something you should do necessarily.