Windows 10 can not boot, error code: 0xc000000e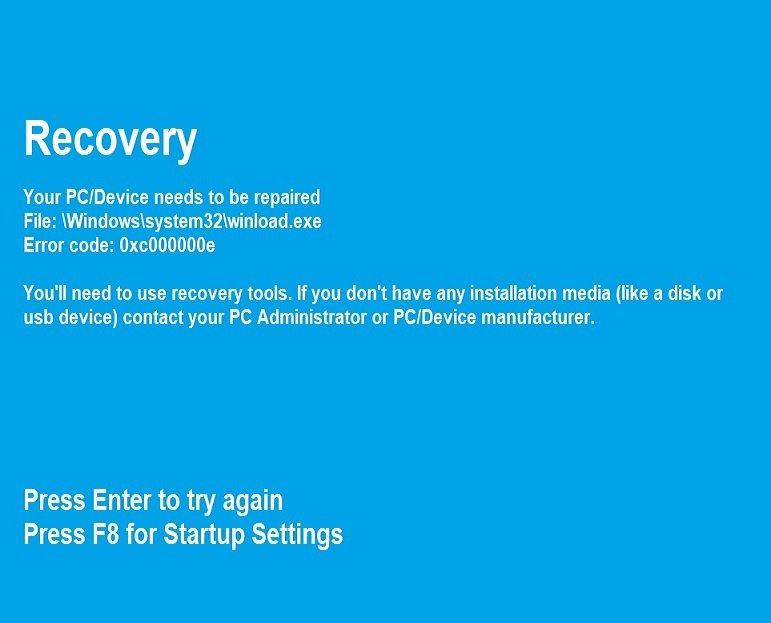 The error code: 0xc000000e during the attempt to start Windows 10 indicates a problem in a sata hdd, in ssd,  or an error in the system partitions structure.
Actually error code: 0xc000000e most often appears when:
You do a backup from old Hard Disk to another.
When you install one of the Microsoft "big" updates.
But this also happens when you backup and restore on the same disk with a third-party backup app like acronis, etc.
But what's the solution that avoids error code: 0xc000000e which usually appears in Windows 10?
1. First try a startup repair.
If you still have recovery options in the current installed copy of Windows 10 use Command Promt. Use these commands:
c:> bootrec /scanos
c:> bootrec /rebuildbcd
c:> bootrec /fixmbr
c:> bootrec /fixboot, then reboot your computer.
But, if you have no access in your partitions, use an installation media like a USB or DVD. Then use same commands which we described above. You can use other methods to repair an OS as is Windows 10.
When the first option does not resolve the problem that appears error code: 0xc000000e then you need to use another more ruthless method.
2. Backup your important data and start installing a clean copy of Windows.
Windows 10 offers the ability to reinstall Windows without using USB or DVD installation media.
Learn more how to reinstall a clean copy of Windows 10 using the method Reset this PC.
If you have no access in this tool then install reinstall Windows through USB or DVD installation media. Select same version version of Windows 10 which you had installed. If you choose the same version as Windows 10 Home then after the installation just connect to the internet then the OS will be automatically activated.